Welcome!
Vroegh Family Eyecare proudly serves the Tinley Park area with quality eye care services and a friendly staff.
At Vroegh Family Eyecare, we strive to provide the highest quality of eye care and eyewear in Tinley Park, IL and the surrounding communities. Dr. James Vroegh and the entire staff of Vroegh Family Eyecare look forward to helping you and your family find the best pair of glasses, sunglasses, and/or contact lenses to meet your visual needs.
Vroegh Family Eyecare | Tinley Park, IL | Dr. James A. Vroegh
708-614-7900
Emergency Contact - 708-876-8601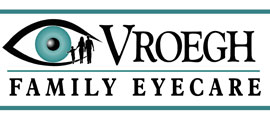 Emergency Contact - 708-876-8601

The Team
Dr. Vroegh and the team at Vroegh Family Eyecare are thankful for the opportunity to take part in your family's eye care needs.


Feedback
Please tell us how we're doing. Complete our Satisfaction Survey or leave a review on one of our social media pages!

Promotions
We invite all our patients to take advantage of our promotions. Please feel free to share these with friends and family.